Cooperative Extension News & Publications
Drew County, Arkansas
Welcome to our Drew County News and Publications page! Below you will find local newsletters, news stories, and/or links to other relevant publications. Please contact our county Extension office at 870-460-6270 for additional information. For accessible versions of PDF files, please contact the office at 870-460-6270.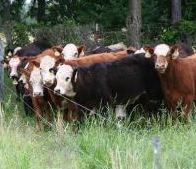 Drew County Beef Newsletter
Below is the link to our very first quarterly Beef Newsletter. It is our hope that you find the material informative and helpful. If you would like to receive a personal copy of this document or need more information, please contact our office at 870-460-6270 .
Learn more
Drew County 4-H Citizenship/Leadership Project Newsletter
The Drew County 4-H Citizenship/Leadership Committee recently toured the Drew County Courthouse to acquire information from every elected official's office for their Citizenship project. They will conduct their leadership skills by studying this information and teaching it at the local schools and Boys & Girls Club in a smaller-like setting. The 4-H Citizenship/Leadership Booth won 2nd place at the Drew County Fair. We are proud of all our Drew County 4-Hers!
Photo: Drew County 4-H'ers sitting on the steps of the Drew County Courthouse