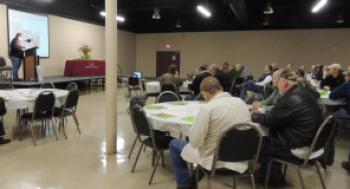 Agriculture
- Row Crop (for more information contact Rick Wimberley)
- Diagnostic Services
Free soil sample testing
Nematode testing
Weed, insect and disease identification
Pest control recommendations for pests identified
Plant Tissue Analysis
Poultry Litter Analysis
Irrigation Water Analysis
- Crop Updates Arkansas Row Crops blog (http://www.arkansas-crops.com).
- Variety Selection
- Irrigation Management
- Verification Programs – Rice, Soybean, Wheat, Corn, Grain Sorghum, Cotton
During 2012 both rice and soybean research verification fields were conducted on the Darrell Walker farm and the Junior Newman farm respectively. During the past several years corn and wheat verification fields have also been utilized to assist producers in fine-tuning their production practices to maximize yields and profits.
- Discovery Farms
Two Arkansas Discovery Farms are located in Cross County where water quality research is being conducted. The Mike Wood farm and the Danny and Matt Clements farm, both in Cherry Valley, are the test sites. A total of six Discovery Farm sites are currently established at five different locations around the state. Production systems selected for study are both crop and livestock based and represent the diversity of Arkansas agriculture. The overarching goal of the Discovery Farm program is to determine the effectiveness of water and soil conservation practices utilized on working farms.
At each site, conservation practices selected for evaluation are based upon the interests and wishes of the farm owner and may coincide with regional water or soil quality issues common to many producers in the area. Research is coordinated by faculty from the University of Arkansas Division of Agriculture and is conducted in collaboration with federal and state agencies promoting conservation of our natural resources.
The Arkansas Discovery Farm Program is supported by a host of sponsors and industry stakeholders who ensure research addresses the needs of Arkansas farmers in a proactive manner. Discovery Farms are designed to operate for five to seven years during which time water quality analysis and data reveal the effectiveness of conservation practices employed at each site.
- Production Meetings
The 2013 East Arkansas AgriExpo was held during the winter at the Technology Center of the Delta with the coordination of the Cross County Extension Service and the Cross County Chamber of Commerce. Morning educational session on the current recommendations for efficient and profitable production of rice and soybeans were conducted along with ag business exhibits. Over 100 producers attended the event which another session being planned for 2014. A separate corn/grain sorghum production meeting on the current recommendations was also conducted with 25 participants.
- Pesticide Applicator Training
Classes are held twice a year for certification and re-certification of agriculture producers for training in order to be eligible to purchase restricted use pesticides for use on their agricultural commodities.
- Livestock and Pastures
- Livestock & Pasture Updates @ https://www.uaex.uada.edu/farm-ranch/animals-forages/
- Diagnostic Services
Manure for Fertilizer Value
Feed Analysis
Free soil sample testing
Weed, insect and disease identification
- Pest control recommendations for pests identified
- Brucellosis vaccination scheduling