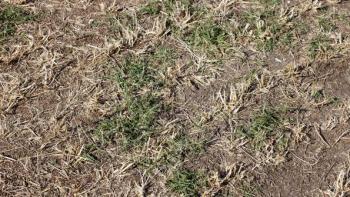 Forage Management
With two years in a row of dealing with drought conditions, beef and forage producers in Conway County are trying to renovate their pastures and hayfields and better utilize what they have.
The Extension office serves these producers through on-farm demonstrations, farm tours and workshops showcasing better management practices using weed control, fertility and grazing management practices. A few of the yearly agriculture programs are: 300 Day Grazing, Forage Weed Control demonstrations, Pesticide Applicator Training, livestock nutrition, beef cattle management, and the Discovery Farm monitoring quality of run-off water from farms. Along with Integrated Pest Management programs in rice, wheat, soybeans and corn involving variety trials, verification fields and demonstrations in weed and insect control.
Photo: Bermudagrass pasture during the drought.