Asset Based Community Development
What is it?
Based in the work of John McKnight and John Kretzmann, Asset Based Community Development (ABCD) is a strategy for sustainable community driven development. Beyond the mobilization of a particular community, ABCD is concerned with how to link micro-assets to the macro-environment.
What are the benefits?
Communities can drive the development process themselves by identifying and mobilizing existing, but often unrecognized, assets, and thereby responding to and creating local economic opportunity. ABCD builds on the assets that are already found in the community and mobilizes individuals, associations, and institutions to come together to build on their assets-- not concentrate on their needs.
An extensive period is spent in identifying the assets of individuals, associations, and then institutions before they are mobilized to work together to build on the identified assets of all involved. Then the identified assets from an individual are matched with people or groups who have an interest or need in that asset. The key is to begin to use what is already in the community.
What are some examples of ABCD?
Kickstart Cleveland County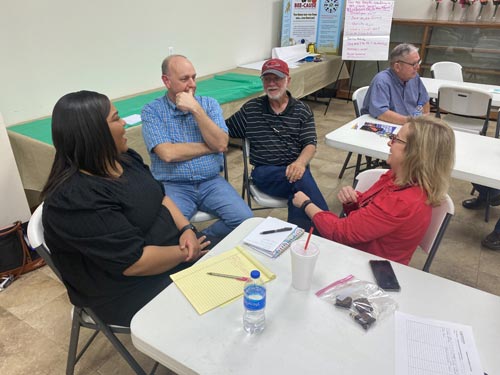 Kickstart Cleveland County is a program born out of the Breakthrough Solutions previously utilized by the Community Development here at Arkansas Extension. A committee was formed to help determine and execute quality of life programs and activities to make Cleveland County, including the towns of Rison and Kingsland, a better place to live and work. The committee has several projects that have come to fruition including the Kingsland Heritage and the beginning of theater productions including the successful run of Steel Magnolias.
After the acute stage of the COVID-19 pandemic, momentum had been lost. It was difficult to meet, and many volunteers had reevaluated their priorities. In April 2022, our team met with Kickstart to help renew the charge in Kickstart programs. An Asset Based approach was used to help determine ways to recruit and reinvigorate volunteers, and to prioritize steps moving forward.
Read more about the Kickstart Cleveland County project.
Breakthrough Solutions
Breakthrough Solutions is an award-winning, next-generation strategic planning and development program of the University of Arkansas Cooperative Extension Service with partners in the public, private and non-profit sectors.
Extension Health Ambassadors
Beginning in the third quarter of 2022, Community, Workforce, and Economic Development will be partnering with Family and Consumer Sciences on an Extension Wellness Ambassador program. The goal of this program is to recruit volunteer ambassadors in six Arkansas counties to be educated alongside the county agents in several facets of health and wellness. These ambassadors will become the hands and feet of the organization in their counties to help teach health programs to those who are in most need.
Asset Based Community Development will be used in the recruitment pieces of the Ambassador Program. By focusing on the strengths, gifts, and talents of those potential volunteers, a more targeted and fulfilling program can be built.