Small Business & Workplace COVID-19 Resources
Part of the Community, Professional, and Economic Development's mission is to provide business assistance. During the current COVID-19 pandemic, things seem to be changing daily. We'll keep this page as updated as possible. You can also find additional UAEX COVID-19 resources here: uaex.uada.edu/covid-19
What's New?
LATEST STATE APPROVED GUIDELINES FOR ARKANSAS BUSINESSES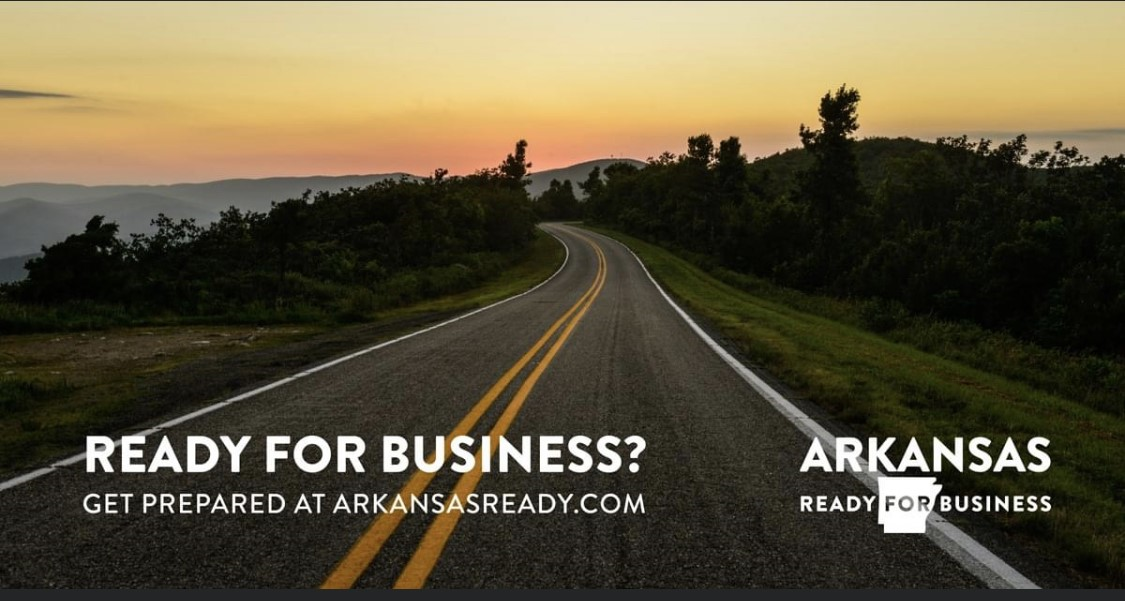 Arkansas Ready for Business
As COVID-19 recovery enters a new phase, this single site has been created to get vital and evolving information to Arkansas businesses and their customers. It is the single source for the latest state-approved guidelines.
Details: Arkansas Ready for Business
The SBA has reopened the EIDL portal to ALL eligible small businesses!
EIDL advances will now be available through 2022.
Paycheck Protection Program Loan (PPP) Forgiveness
On March 25, 2021, announcement was made that the application period has now been extended to May 31, 2021 from March 31, 2021.
U.S. Small Business Administration & Treasury Announce Simpler PPP Forgiveness for Loans of $50,000 or Less!
SBA and The U.S. Department of Treasury have posted a revised, borrower-friendly PPP loan forgiveness application as well as an EZ application.
REVISED Loan Forgiveness Application
Shuttered Venue Operators Grant Program
𝗧𝗵𝘂𝗿𝘀𝗱𝗮𝘆, 𝗔𝗽𝗿𝗶𝗹 𝟴: 𝗔𝗽𝗽𝗹𝗶𝗰𝗮𝘁𝗶𝗼𝗻 𝗽𝗼𝗿𝘁𝗮𝗹 𝗼𝗽𝗲𝗻𝘀
Sign up to get notified when you can start applying for funding
Learn more about the Shuttered Venue Operators Grant program

What criteria must be met when considering to apply for different pandemic relief options? This matrix can help explain it.
Learn more: https://www.sba.gov/relief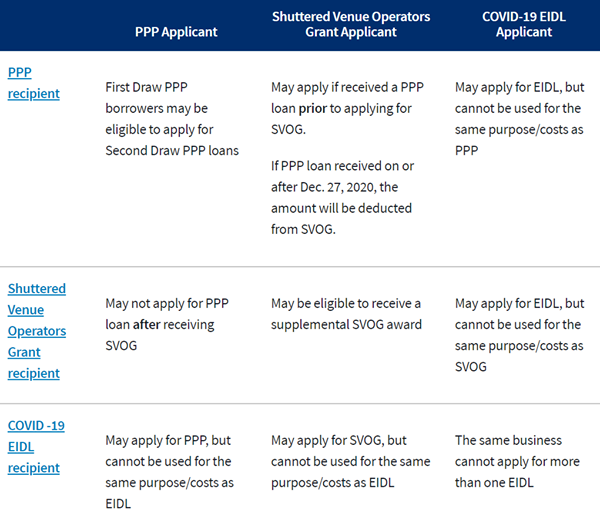 Coronavirus Food Assistance Program (CFAP)
Are you a farmer or rancher whose operation has been directly impacted by the coronavirus pandemic? The Coronavirus Food Assistance Program provides direct relief to producers who faced price declines and additional marketing costs due to COVID-19.
Find eligible commodities as well as how to apply HERE

Expansion of the Coronavirus Food Assistance Program (CFAP) was announced on March 24, 2021.
USDA's Farm Service Agency will accept new and modified CFAP 2 applications beginning April 5th.
Adjusting your Business Model

Small Business Resources
Small Business Infographics
Click image to download infographic, or download the Continuing Your Small Business tip sheet .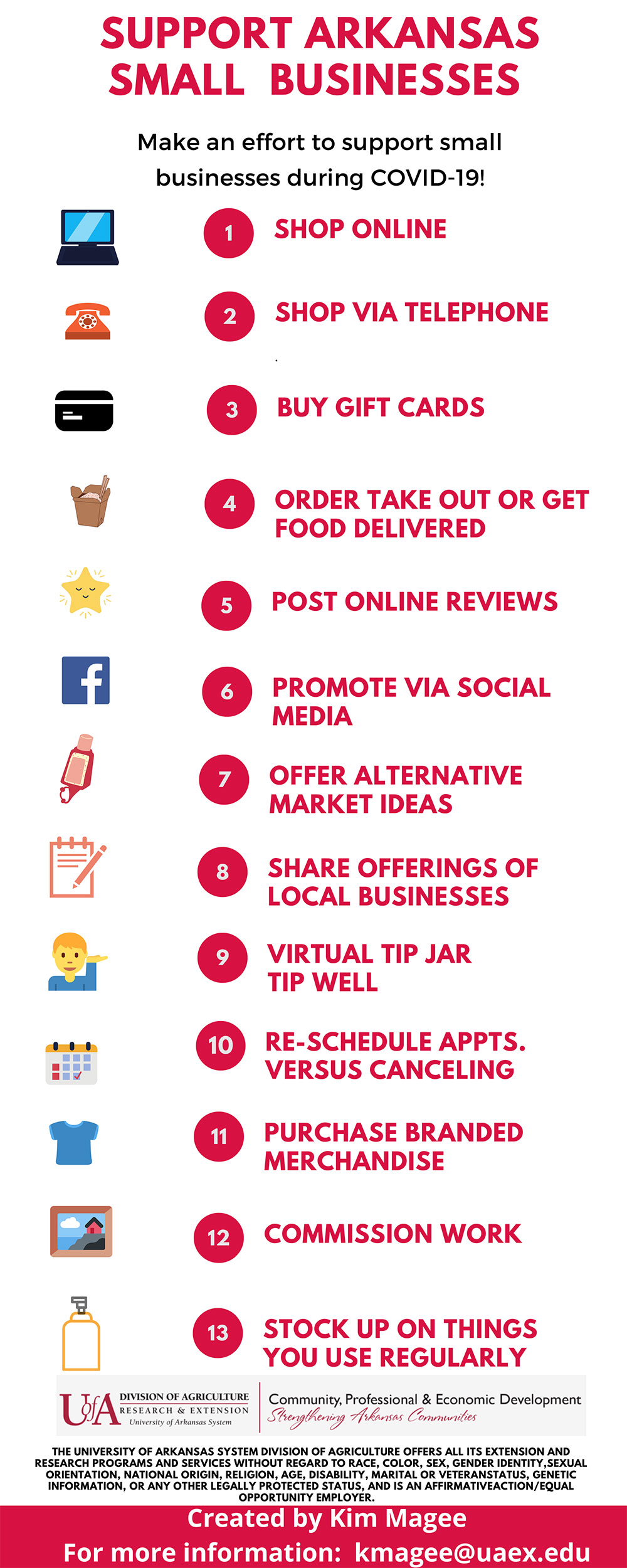 Click image to download infographic, or download the Support Arkansas Small Businesses tip sheet.